If you are thinking of buying or selling real estate, your choices are many with so many real estate agents knocking on your door or that you are finding on the Internet. My service involves going ABOVE and BEYOND the average service in helping you with your needs. With this effort, I bring over thirty years of real estate agent experience "to the table" so we can sit down together at our table, and just talk in simple ways. I want to understand your objectives and goals, in either buying or selling. I have been the broker and owner of LAFLER REAL ESTATE for many years, and I have sold many different types of property: residential, commercial, and farms. Being here in this beautiful rural area that produces so much food for the world, I love introducing this local area to those that may not know how sweet it is here, with the open skies and fields just plowed, oftentimes easily seen from a home subdivision you may purchase a house in. I roll out the down-to-earth kind of listening and action that you may associate with the past, but in my case, this Old Fashioned HIGH level of service I will give you and any other clients, will never become obsolete because it combines extensive experience, a positive approach and my placing your goals right in the center of the conversation. Please contact me for your real estate questions and your real estate goals. It will be the wisest and most pleasant decision that you can make in regard to the actions you to take to sell or buy real estate.
Please contact me to read Testimonial Letters from happy past clients. I cover a wide geographical range for my services. Considering the volume of money involved in a real estate purchase or sale, don't you want to hire an agent that knows what they are doing? If you do, I am that Agent-Broker, JoAnna Lafler, that you should select and call today! My phone is 209-777-2491. THANK YOU!
Buyers
Whether you're looking for your first home, your dream home or an investment property, I'm committed to providing you with the highest quality buyer service. When making the type of investment that buying a home requires, you deserve to have all the latest market information and the very best advice, both of which I can provide you with. Read more.
Sellers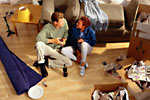 The decision to sell a home is often dependent on many factors. Whatever your reasons are for selling, my proven effective marketing strategies will ensure that you get the highest possible price for your home. I guarantee to provide you with professional, ethical and confidential service and keep you fully informed every step of the way. Read more.